On the evening of April 2, democratically-elected President Viktor Yushchenko dissolved the democratically-elected Ukrainian parliament. Yushchenko gave three reasons: party factions have been illegally formed, the parliament has been ineffective and it has adopted non-constitutional decisions. The first reason is at the heart of the crisis: Anatoly Kinakh, one of the leaders of Our Ukraine, has gone over to the government side together with ten other deputies from Our Ukraine and Yulia Tymoshenko's bloc. Such transactions are always made for big money in Ukraine. Yushchenko worried that the government would increase its current majority of some 270 to 300, which would amount to a constitutional majority able to override presidential vetoes and alter the constitution. - Anders Åslund:
http://www.nationalinterest.org/Article.aspx?id=13976
When Ukrainian parliamentarian and former Prime Minister Yulia Tymoshenko traveled to the United States last month, she boldly told the Washington Times that if the current administration, under the leadership of archrival Vikor Yanukovich, served out its full term to 2011, "there would be nothing left of a democratic Ukraine. The territory would still exist, but it would not be Ukraine any longer." Less than a month later, her former Orange Revolution partner, President Viktor Yushchenko, dissolved parliament and called for early elections. Coincidence or influence? - Tatiana Serafin:
http://www.nationalinterest.org/Article.aspx?id=13974
Large numbers of protestors in Kyiv's Independence Square (Maydan Nezalezhnosti) were crucial in motivating Yushchenko to dissolve parliament, just as they were crucial in the Orange Revolution. Speakers on the stage talked of how the current set up of corrupt politicians is preventing Ukraine from socio-economic development. The average salary remains below $1,000/year while the elite cruise around, a world apart from the typical citizen, in their blacked out Mercedes or Lexus. Many worry that dissolving parliament may not dissolve corruption as newly elected politicians are unlikely to be so different from those at present. Although the decision was made to dissolve parliament on April 2nd, Yanukovich's protests are currently preventing the dissolution from being implemented.
Here are the photos of the protests that led to the decision to dissolve parliament on April 2:
March 29th
Just a few protestors, possibly paid for by President Yushchenko: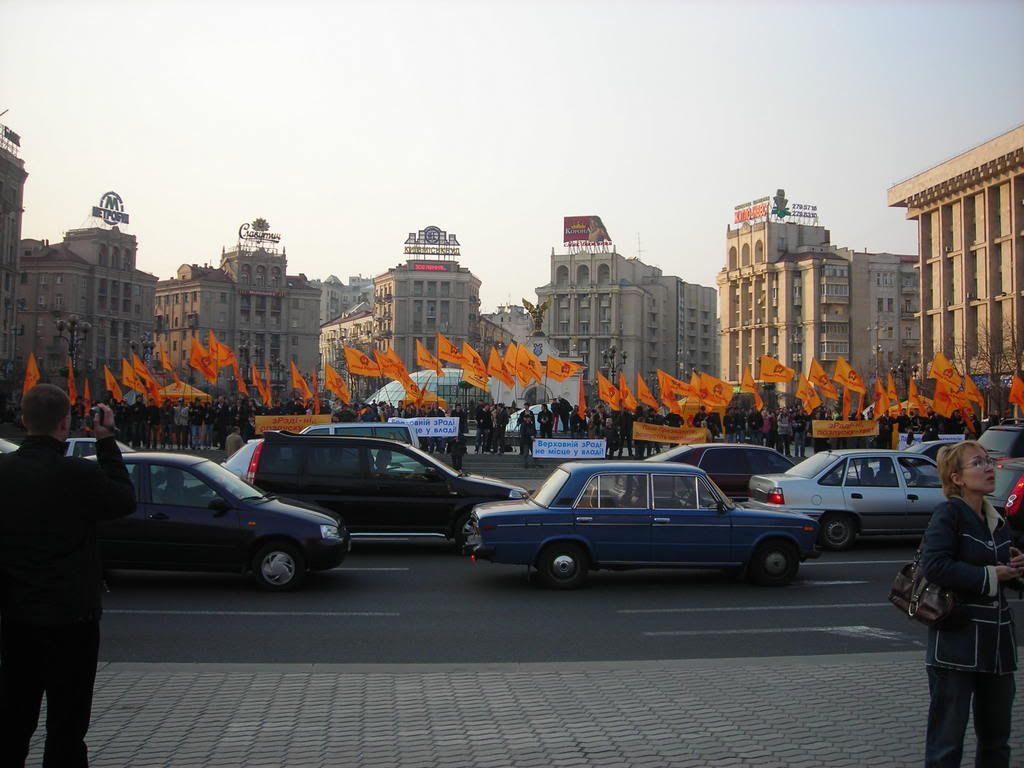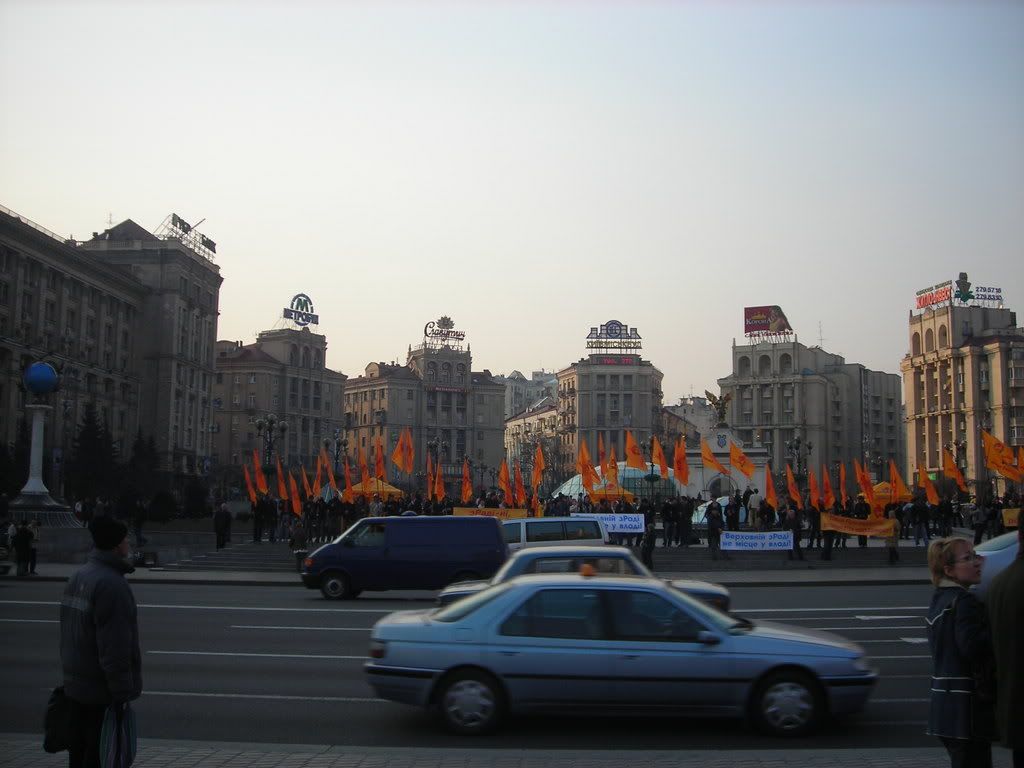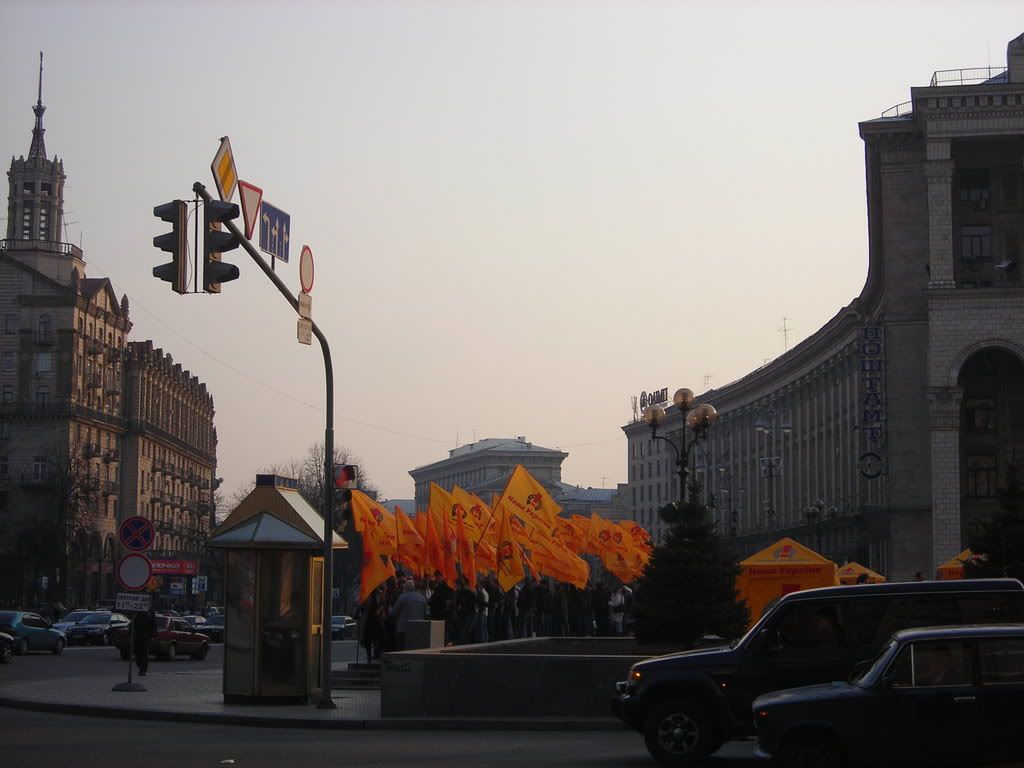 April 1st
A mass gathering: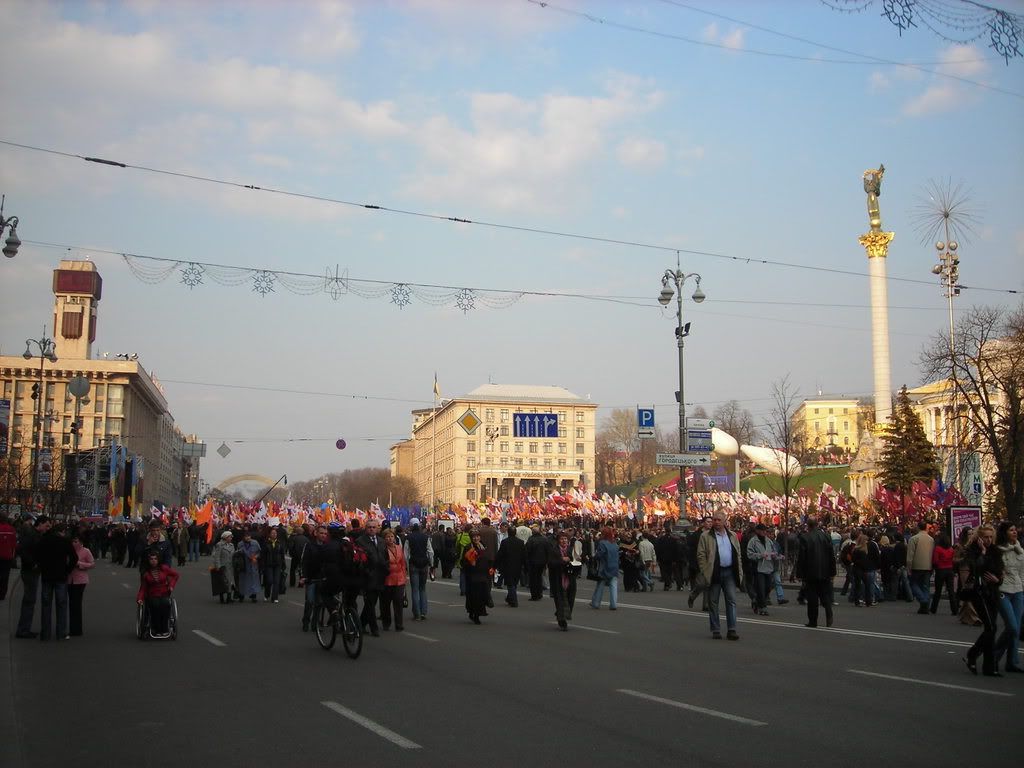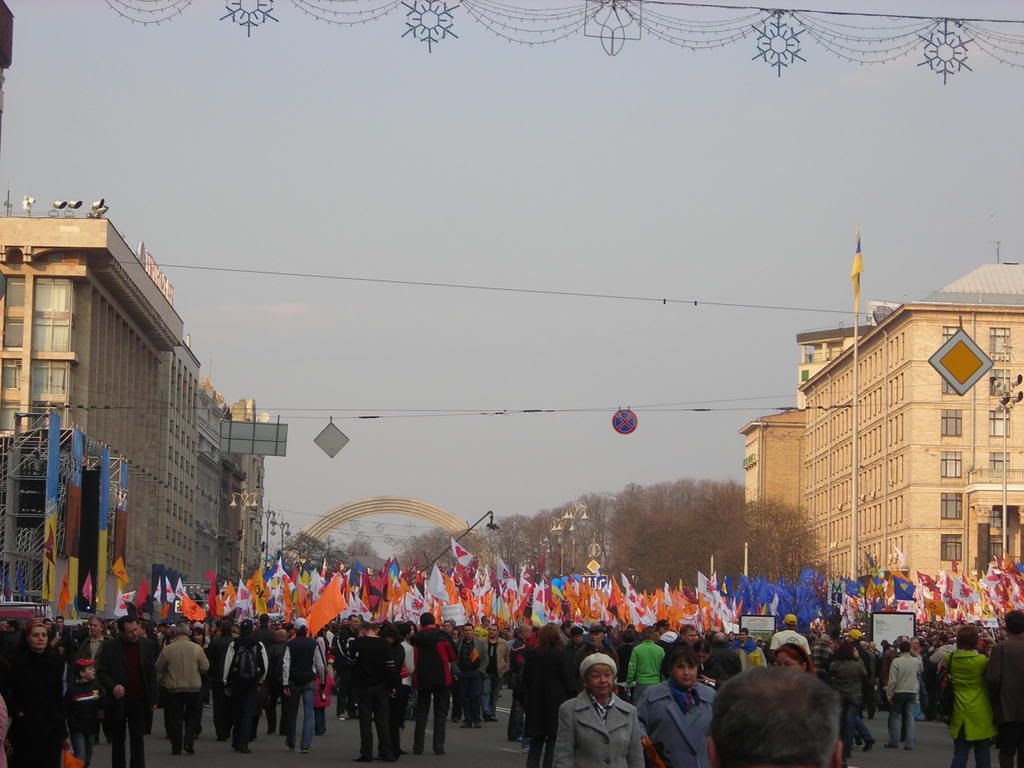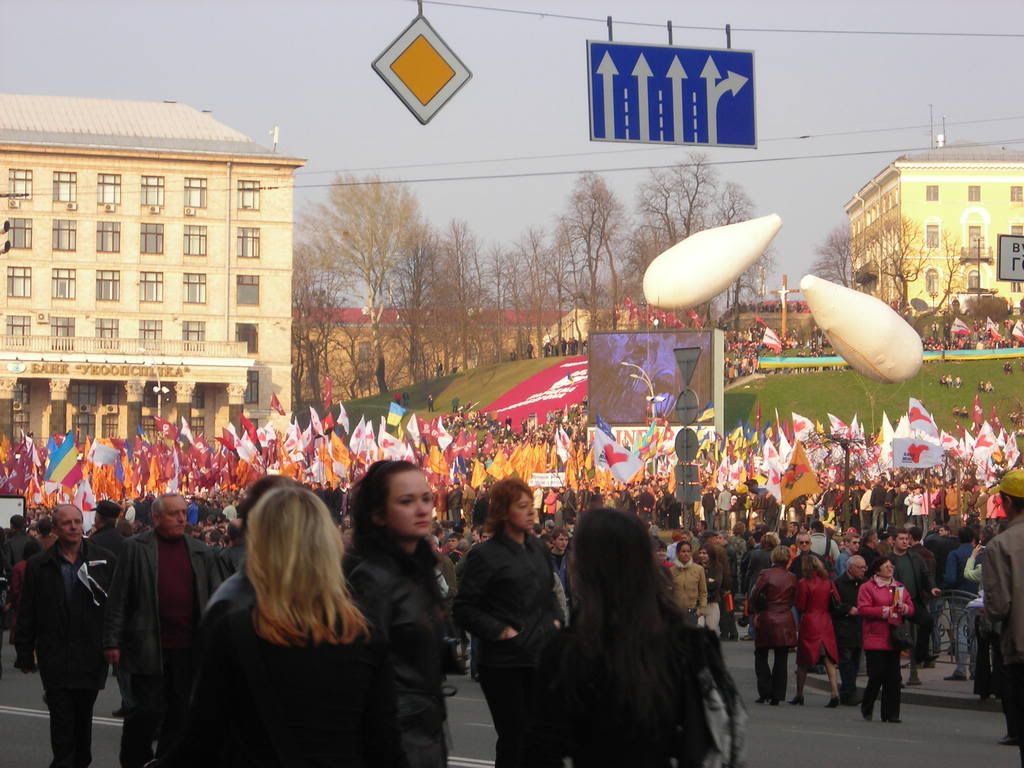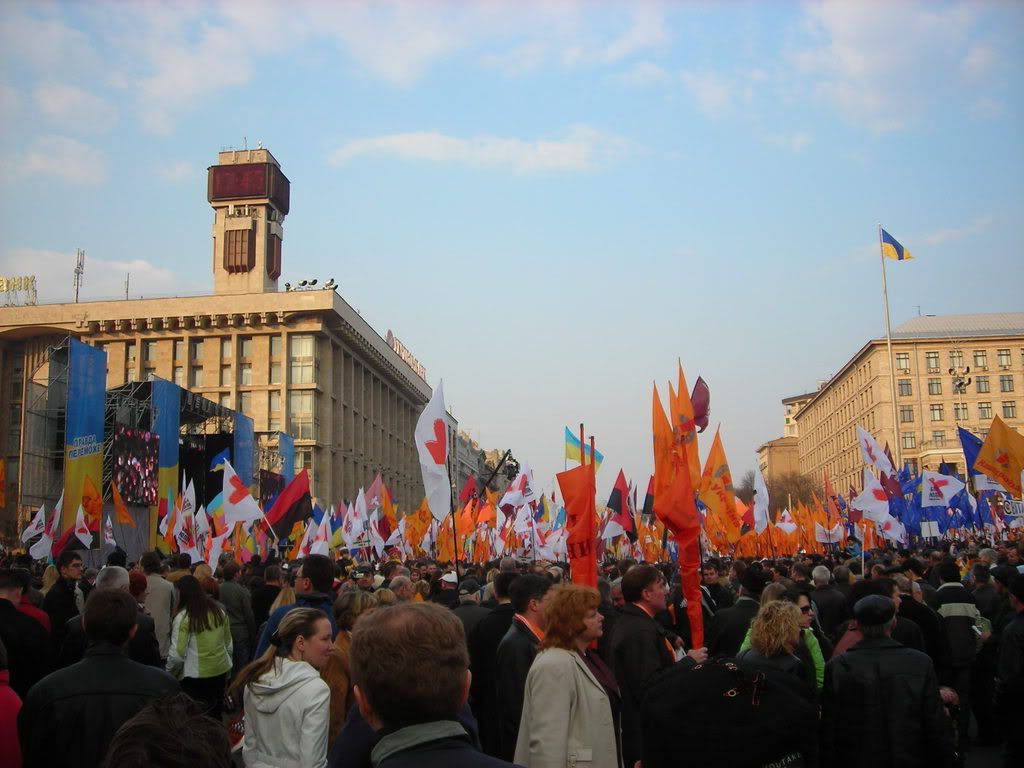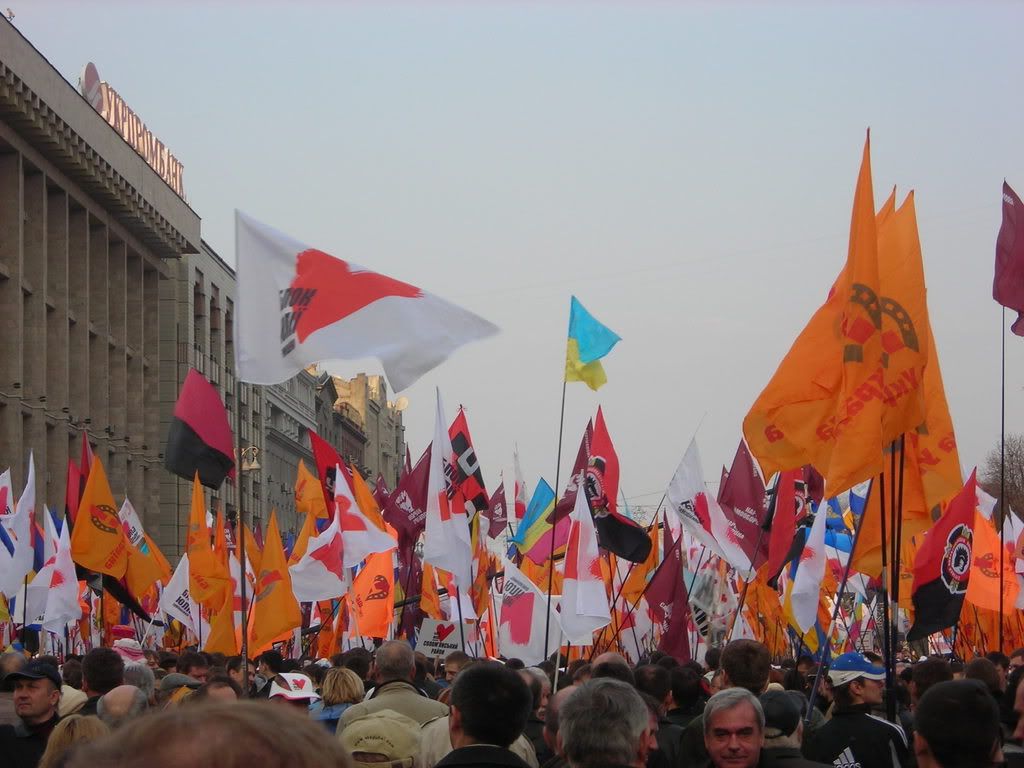 Yanukovich supporters showing their support for the existing parliament: